Made a New Year's fitness resolution?
Watch out for 19th January.
It's the date you are most likely to abandon your commitments.
Fitness app Strava found this from analysing data from 98.3 million uploaded fitness activities.
The cause? It could be dreary weather or the enduring drain of commuting to and from work in the dark, it seems as if sticking to those health and fitness goals ends sooner rather than later.
But don't give up.
Cognitive Behavioural Hypnotherapy, visualisation and motivation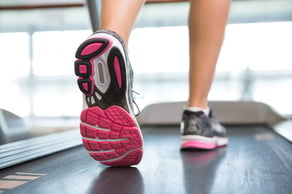 Staying keen is the oldest and biggest problem in health and fitness.
Losing weight (never say 'diet'), getting fitter, faster and learning new techniques all start to fall by the way side – unless you help yourself.
With Cognitive Behavioural Hypnotherapy I work with you to find out how you're currently thinking feeling and acting and how you want to think feel and act in the future.
In other words what do you really, really want to change and why – THE most important question of all. The real heart of your motivation. What's driving you to be a new improved version of yourself.
This is your story. And what we work together to achieve it. It becomes the basis for your hypnotherapy scripts.
Hypnotherapy and S.M.A.R.T goals.
Working together, one of the first things we agree on is the acronym 'SMART' (specific, measurable, achievable, realistic, time-bound).
In other words what you want to achieve will stretch and tax you, but not be pie in the sky – you're 55 and want to get on Gareth Southgate's radar. Not Happening. You're 55 and want another three seasons of veterans five-a-side. Better.
You've done couch to 5k and now want to do a sub-three marathon this year. Get real. You've done a 5k and want to do a half marathon in a year. Now we're talking.
You get the idea.
We can be better versions of ourselves NOT setting ourselves up for failure.
As they say disappointment is the difference between expectation and reality.
Quitters don't win. Winners don't quit. How hypnotherapy helps.
If we've got the right SMART measurements in place I can help you 'see' the finish line. A new slimmer you, faster you, you with added stamina.
So the hypnosis we do can include visualisations of you succeeding, coming back from injury, not worrying what other say about your targets: you can get out there and do it. Achieve.
Hypnotherapy and other training tips.
I will give you a hypnotherapy recording to listen to between our sessions as well as homework – usually a diary to keep. You'll let me know you thoughts feelings and actions and how you coped.
You NEED to do this. It's brain training. Just as much as you're training your body, I'm giving you the chance to train your mind to be in a better place. The more you do the better you'll feel about yourself and are able to push on past 19th January. Let it sail by.
Also we'll discuss other things you can do to help. Like find a buddy. Especially one on the same journey as you. It's harder to quit if someone else is there to encourage you and raising the bar. Drive each other on.
And enjoy the discomfort. If it's cold, dark and rainy. Get out there. Why? Because you know others won't break up with the sofa. You have. And that warm bath when you come back will be doubly rewarding.
Come on. Let's smash through January 19th . It's just a number. Beat it.
James Thomas is a Cognitive Behavioural Hypnotherapist based in Lincolnshire. He runs The Gentle Mind Hypnotherapy Ltd.
Once upon a time he ate and drank too much - was obese. How now runs marathons, does Iron Mans and has climbed Mont Blanc.
He believes we are what we tell ourselves. That when we relax we are kinder to ourselves.
jamesthomas@thegentlemind.co.uk
thegentlemind.co.uk
0778 756 3099